Born on September 19, 1867, in Lewisham, England, one of 12 children, Arthur Rackham, began his illustrious artistic career at 17 while travelling to Australia with his aunts to help improve his poor health. It was during this trip he began to experiment with watercolor. 
Obedient to his father's wises, Rackham gained employment as a junior clerk in the Westminster Fire Office, where he worked until 1892. Concurrently he also enrolled at the Lambeth School of Art which he attended after work. After seven years of study, Rackham became a staff artist and reporter for the Westminster Budget. It was at this point he also began doing book illustrations.
Along the way he married Edyth Starkie (1903).  They a daughter they named Barbara, years later.  Many of the women in Arthur Rackham's work are modeled after his daughter.   
His book illustration career began in 1893 with To The Other Side, followed by The Ingoldsby Legends in 1898 and Tales from Shakespeare in 1899. The last two really cemented his place as a book illustrator. A career he would enjoy until his death on September 6, 1939.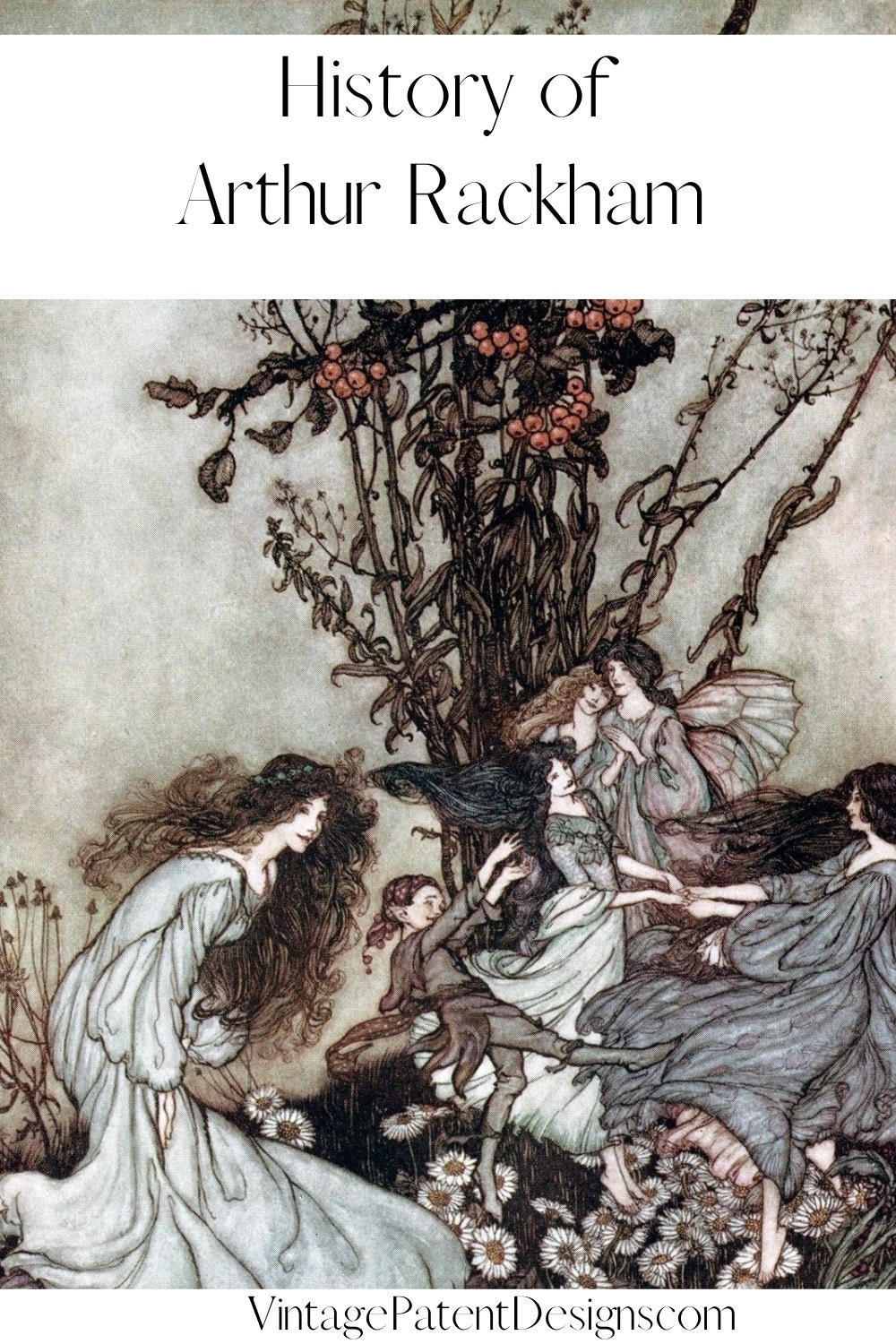 Overall Arthur Rackham contributed illustrations to over 60 books! Some of the more notable ones are:
The Fairy Tales of The Brothers Grimm
Rip Fan Winkle
Peter Pan
Alice's Adventures in Wonderland
A Midsummer Night's Dream
Guilliver's Travels
Undine
Aesop's Fables
Mother Goose
The Sleeping Beauty
Comus
The Tempest
The Legend of Sleepy Hollow
The Night Before Christmas
Fairy Tales by Hans Andersen
Goblin Market
The Wind in the Willows
We at VintagePatentDesigns love the work of Arthur Rackham and strive to make these public domain pieces available in a variety of formats. Be sure to check our our Arthur Rackham section that you can find here for prints